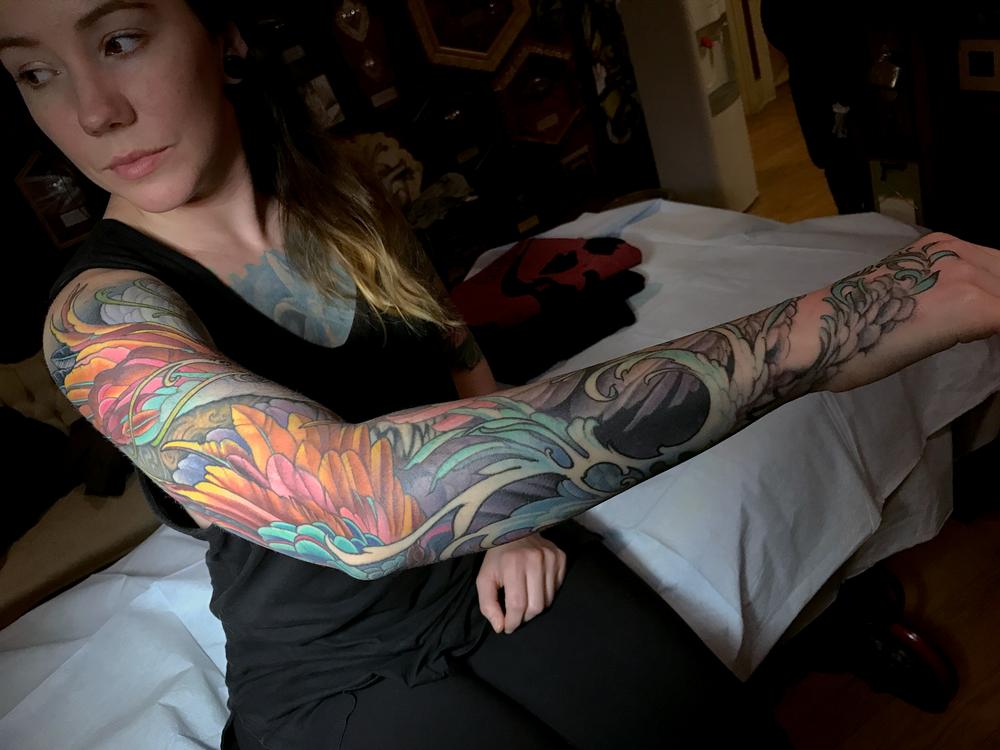 I wanted to do an abstract piece about juxtaposition, sugar and spice, flow and movement with some tension, contrast… I have been starting my design process with arcs. To be more precise, with a starting point and a spiraling movement out and off of the person. I then place points of interest along the spirals. My client brought a very colorful photo for the color reference. I've been going in a direction of fewer colors, fewer contours, just a "less is more" general direction, so this piece has been a challenge on many levels. I tried to keep the feathers somewhat flat and simple but maintain a good sense of movement and layers, tucked in beneath the feathers there are a few areas of fangs. The goal was to not notice them at first glance but to have them kind of sneak up on you as you look closer at the tattoo. It's always amazing to have clients who let me explore symbolism, metaphor, and artistic expression. What an amazing job I have.
Artist Products For Sale
LIVESTREAM The Art of Teaching: Insights on crafting great tattoo seminars

Buy Now
JEFF GOGUE Art Core, Isolation Training for Visual Art

Webinars ON DEMAND

Buy Now
JEFF GOGUE -On-Demand Size doesn't matter. Hand tattoo Webinar

Webinars ON DEMAND

Buy Now
No products are available at this time. Please check back later!